Tsunami MUS 150/150A FANCY CARP Submersible Pump
10 cm (Length) x 10 cm (Width) x 20 cm (Height)
Details
---
Tsunami Stainless Steel Multi-Purpose Submersible Pump
Model: MUS-150 Stainless steel fancy carp submersible pump for fish pond & fountain.
** Features Made of stainless steel and special resin, the PU-series submersible pumps are lightweight and rust free.
The vortex impellar and large passage facilitate pump operations to readily dispose of liquids containing various kinds of foreign particles.
The pump is high efficiency, energy saving, long life span, corrosion resistant, easily passes large solids & KOI friendly.
Tsunami Multipurpose Submersible Pump
Model : MUS-150 Discharge Bore: 50mm
Motor Power: 150W
mpellar Passage: 35mm
Cable Length: 5M
Weight: 6.6kgs
H.Max.: 5.5M Q.
Max.: 15M3/hour / 0.25M3/min
Excellent quality & Low maintenance & Energy saving, Anti-rust,
314 Stainless steel shaft.
Over heating protection, Long lasting!
** 1 Year Warranty**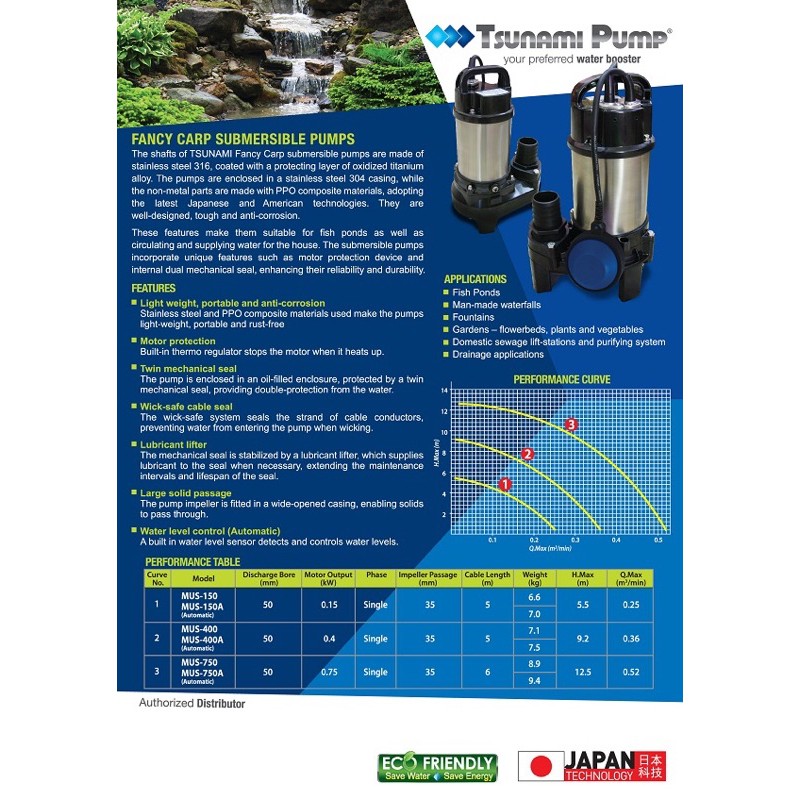 ---
View more about
Tsunami MUS 150/150A FANCY CARP Submersible Pump
on main site